Industrial Estates are popular locations for a range of business types, such as suppliers, designers, and trade companies. Across the UK, if you visit any educational, commercial or industrial estates, you will notice a huge range of signs in different styles and formats, each tailored to different brands. As a result, standing out in your industrial estate is of vital importance.
Benefits of quality industrial signs
Having the right sign for your business installed:
Allows visitors and clients to easily find you
Increases brand awareness and loyalty
Looks professional
Gives a successful first impression
Tells a visitor something about your services
Estate signs are great for portraying that first impression as they welcome residents and visitors to your premises. If you are based in a busy estate it's great to be visible to customers if you're looking to increase footfall. After all, there's nothing worse than not being found or having clients get lost.
We offer a range of effective signage for this purpose, and when it's such a busy environment we have large exterior signage that are very effective.
Case study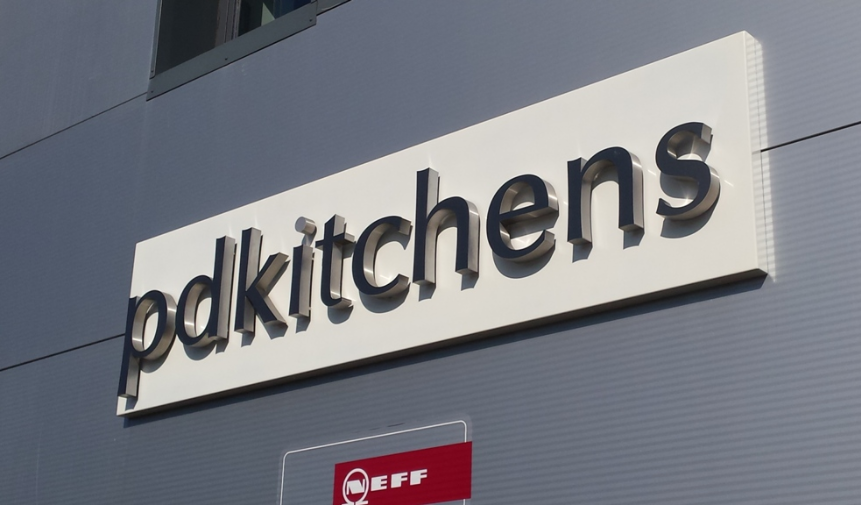 Our client PD Kitchens are based on an industrial estate and we created this sign to increase the visibility of their location in Southwater, Horsham. The sign's design is inline with their brand and is slick and sophisticated. As they design and install modern and luxury kitchens, it was vital to reflect this in the quality of the sign.
Most industrial estates have signage called 'way-finding signage' near the entrance to the estate with a list of businesses working out of the estate. Sometimes these are numbered and make it easy for customers to find you. As a business, we suggest that you ensure you are mentioned on this list so visitors know they are in the right place.
If someone is visiting the estate for another purpose, then it's great to catch their eye and be noticed. If they have heard of your company previously but didn't know where you were based, well now they do! It's a great way to get your brand in their mind, just like other forms of marketing.
Our services
Whether your business requires large exterior signs for warehouses, elaborate stainless steel lettering or even signs for units such as simple number signs, or directional/wayfinding signage we can help you. Our highly experienced team can design, make and install a one-off sign, or multiple indoor and outdoor signs across multiple locations.
Whatever your current project, call us on 01403 272544 today for a no obligation chat.