Frosted glass has typically featured in all types of office spaces, from traditionally designed offices to modern, open plan contemporary spaces, and for good reason. As well as improving the aesthetics of a space, frosted glass can also help to create a sense of privacy, improve workplace health and safety and ensure buildings regulations and Disability Discrimination Act (DDA) compliance.
We've been providing glass manifestation services throughout Surrey, Sussex and the South East for more than 20 years, working alongside companies ranging from small start ups to large corporations. For a free, no obligation quote for your glass manifestation requirements call us today on 01403 272544, or send us your enquiry at info@sl2.co.uk and we'll be in touch at a time convenient to you.
What is the purpose of frosted glass?
Frosted glass for office windows is used for a number of reasons, the main ones being:
Privacy
Safety
Decorative
Compliance
We can also install made to measure frosted window stickers, frosted window decals or frosted window film onto any interior or exterior windows, glass partitions or other glass surfaces.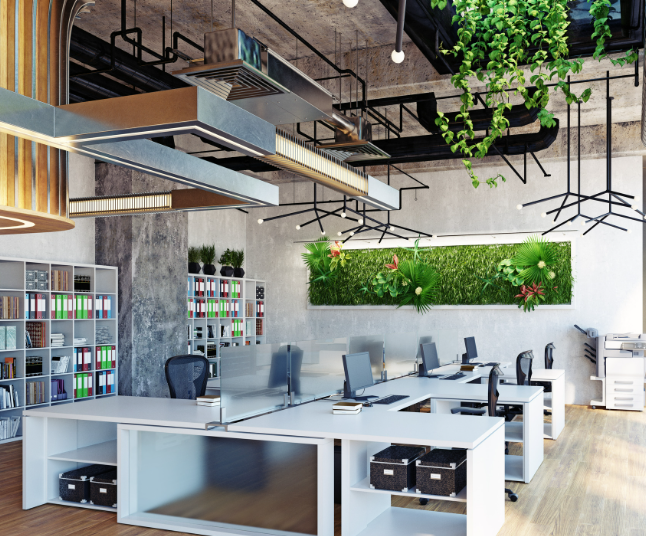 Improve office aesthetics
The addition of frosted glass to your office or working space can help to improve the overall aesthetics, creating a modern and contemporary feel, shielding certain areas whilst still allowing enough natural light to pass through that your working environment feels bright and airy. Frosted film stickers and other decals can also be personalised to feature your company logo, business colours or any other text of choice.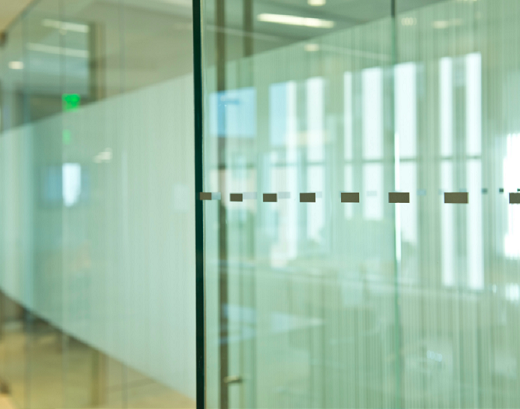 Increase privacy
Another benefit of the installment of frosted glass for your office is the increased privacy it creates. It makes it possible to separate individual spaces in which employees are able to work, conference and meet with a degree of privacy.
This privacy is not only essential in many working practices, it can also help to create an environment in which employees feel more at ease, improving morale and thus helping to boost productivity and increase employee engagement.
With free standing glass partitions, it is also possible to adapt your office space, as and when required, re-arranging working spaces to meet the immediate needs of employee/customer interactions.
Improve workplace health and safety and ensure compliancy
As per UK Gov guidelines for the 'Manifestation of Glazing';
"K5(2): Transparent glazing, with which people are likely to come into contact while moving in or about the building, shall incorporate features which make it apparent."
As per Equality Act 2010;
In relation to the second requirement, a reference in this section or an applicable Schedule to avoiding a substantial disadvantage includes a reference to—
(a) removing the physical feature in question,
(b) altering it, or
(c) providing a reasonable means of avoiding it
In simple terms this means that within a commercial space, steps must be taken to ensure that any large area of glazing is visible in order to ensure the safety of occupants.
Frosted glazing is cost effective solution to these stipulations, and represents an active effort on behalf of the employer with regards to the improvement of workplace health and safety and the inclusion of all employees.
Which types of glass are used in office spaces?
As per UK Gov regulation 14;
Windows, and transparent or translucent doors, gates and walls
14.—(1) Every window or other transparent or translucent surface in a wall or partition and every transparent or translucent surface in a door or gate shall, where necessary for reasons of health or safety—
(a) be of safety material or be protected against breakage of the transparent or translucent material; and
(b) be appropriately marked or incorporate features so as, in either case, to make it apparent.
If you are unsure as to whether or not your current glazing meets these requirements we'd be happy to visit on a no-obligation basis to ensure your compliancy with relevant regulations and the continued health and safety of your employees.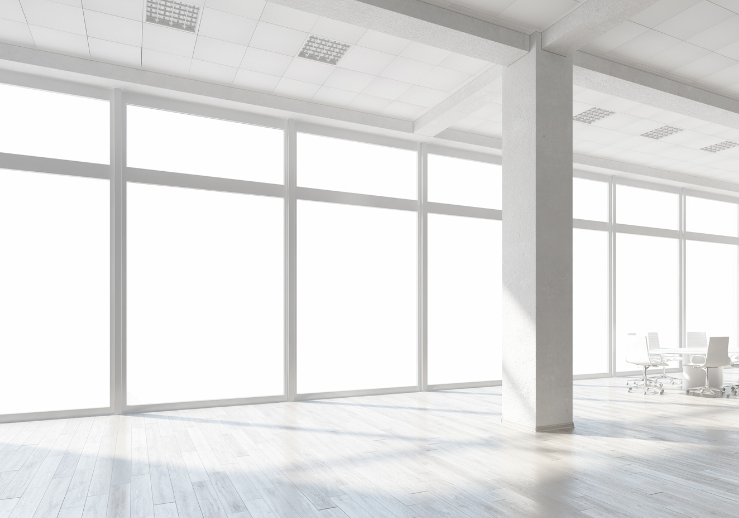 Does frosted glass reduce light?
The typical 10-20% opacity of frosted glass means that it will not only obscure vision but also does a certain amount of light transfer (whether it be from a natural or artificial source). In our experience this reduction of light transfer is minimal, and will have minimal impact on the overall natural light levels within a space.
There is conversation to suggest that some window frosting film is capable of reducing the levels of harmful UV-rays, though we would recommend carrying out your own research into specific products.
Get a quote for frosted glass for your office
We know how important business continuity is, which is why our glass manifestation specialists endeavour to conduct the entire installation process with minimal impact to your daily operations.
If you feel like your office space or business premises may benefit from the installation of glass film, privacy film or branded frosted glass call us today on 01403 272544 for a free, obligation conversation and quote.