At SL2 Signs we offer a range of services to fully or partially cover your fleet with customised vehicle graphics, including designing, manufacturing and installation.
If you're a company with multiple vehicles, investing or improving your current graphics is a great way to advertise your business and enhance your brand. Nothing says success and professionalism like quality, branded vehicles. Imagine how many people will see your business at work in just one day and how this will help with referrals.
When you get in touch to discuss your needs, we'll tailor our service to you, but there are some fundamentals that'll help you understand the power of vehicle graphics and how you might want yours to look.
Here's our guide to fleet vehicle graphics:
Make a great first impression
One of your main aims should be focusing on how you can make a great first impression to increase and improve your brand awareness. This involves a balance of taking your logo and details and applying them to a new medium (the fleet) in a way that suits and looks stylish. In some instances, this will involve having the vehicles in the fleet fully wrapped in a colourful design and in other instances, having a more subtle approach with a partial wrap.
To keep this great first impression long-term, we can use durable graphic materials so the quality stands the test of time.
What to include
It's essential for your graphic to include:
Your logo
Your business name
Contact details including website address
Core services
Your slogan if appropriate
A brand colour scheme
All of this information is important for potential business to have to hand to contact you after seeing your advertising. Brand colours and your logo showcase your ethos and make you memorable, whilst including your website gives them the opportunity to further research your services.
What not to include
It's important to leave out excess details:
Business hours
Full address
Detailed photographs
Product list
Origin story; too much text
Names of clients
All of the above make a vehicle graphic look 'busy', complex and uninviting to the eye; in other words, a disaster for anyone to look long enough to take in your details.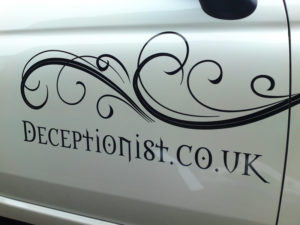 Design process
This involves taking an initial concept, reviewing it, redesigning as required and creating a final graphic to manufacture and eventually install. Throughout this process, the brand is the heart of the creative design, but also how the graphic will fit and look on your specific vehicles.
Mock-ups are a great way to make a final decision and it may be possible to pick and choose elements from each to form a 'hybrid' that you and your entire team would be proud to have on your vehicles.
'Launch'
Once your fleet has had the graphics installed and looking great, you can turn the re-design into a launch and gain exposure on social media and in the local press, furthering your brand. This means sharing on Facebook, Twitter and making sure you take some photos of the fleet when they're brand new and completely clean.
Investing in your brand in this way is definitely something to shout about as it highlights your quality and success within your industry.
Read about more things to consider when choosing vehicle graphics here. Call 01403 272544 or 01293 749043 with your enquiry. We look forward to working together on your next project.