If you're business is customer facing and offers a valuable service, vehicle graphics offer a great advertising opportunity. Here at SL2 Signs we offer a wide range of wraps featuring everything from simple logos and contact details, to bright and colourful full vehicle wraps..
Recently, we undertook a project with a local business and helped manufacturer a bold and colourful design. It's often the case that the more bright and attractive, the more attention it will achieve for your company- and that's definitely showcased in this case study!
Super Hero Parties Vehicle Wrap
Steve Goodwin, owner of Super Hero Parties, Force Academy Parties and Master Builder Parties decided to utilise this exciting advertising opportunity and transform two of his family cars into branded Superhero and Star Wars cars. The end result was a superb display of the company logo and details, appealing to the child in all of us. You may have already noticed them around town, and if you have – they've already serving their purpose!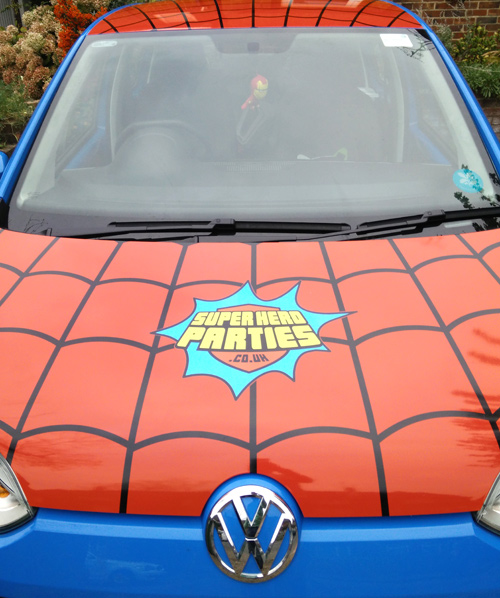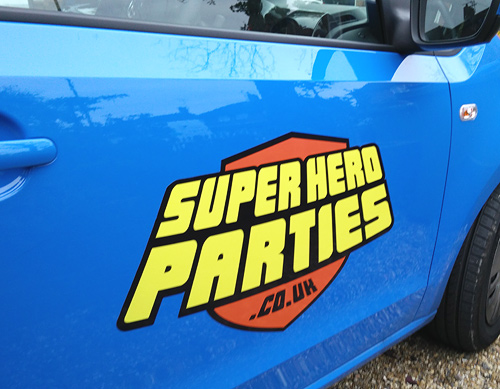 Testimonial from the owner about his vehicle wraps and our service
"Having my cars branded and looking amazing is so important to my growing business. Not only are they a professional and fun way of turning up at a party, but they also serve as eye catching adverts around town. I can never tire of bringing a smile to a child's face as I drive by, as they point and mouth 'Spiderman car!"
SL2 Signs have been really helpful with deciding on the various options of graphics for the cars, and with the launch of my new Master Builder Parties over the last few months, I'm looking forward to working with them again soon!"
To find out about our vehicle graphics, give us a call on 01403 272544.