Office wall signs, if done well can really boost the overall appearance of any work space.  It is a key part of creating a strong brand image that gives clients the right impression and your employees a productive working environment.
Enhance your business profile
Creating a lasting impression is of utmost importance in the world of business, so make sure your indoor signage says exactly what you want it to. Whether you choose to use your company logo or a motivational slogan, office signs can give your company that sought after professional edge.
How can this be achieved?
Incorporating elements of your brand – logos, representative artwork, relevant colour scheme will show the quality of your work and the thoughtfulness and mindfulness that goes into all you do. It also gives the company a visual representation; this works well as part of the overall brand journey, from a customer hearing about you online, to visiting your premises
This could be the deciding factor as to whether you win a contract or the client's decide to trust you with their business. If you look unprofessional from the outset clients may feel less likely to trust you. In essence, they want to see you're successful and well organised as this implies you can achieve the same success for their business.
Sign options
Your reception signage sets the tone and makes the statement, while your entire office sign solutions can often play a large role in customer recognition.
We offer :
Illuminated signage
Glass or LED
Raised lettering
Projecting signs
Window decals
Banner systems
Powder coated tray signs
Site safety signs
In particular, window graphics are a practical and cost effective way to enhance your office space. They look very modern and can be installed without disruption to your working day. To view previous examples of our work, please click here.
Working with SL2 Signs
Our signs come in many forms to suit a diverse mix of environments and requirements. We offer corporate signage, reception signs, illuminated signage, wayfinding systems and much more. Over our 15 years in business we have worked with a huge range of office projects and have the experience and creativity to exceed your expectations.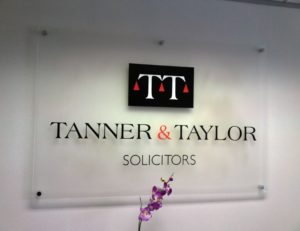 Our bespoke solutions are created to suit the needs of local and national companies and organisations. If you have any questions about the services and solutions we offer, or would like to speak with us about an existing project, please call 01403 272 544.