It's of utmost importance that your office space gives off the right impression to potential clients and customers, and a lot of this can be achieved with branded designs.
Modern, minimal and stylish office spaces are the popular choice, with the days of offices being stacked high with paperwork and Filofaxes long gone. Instead, companies are opting for a more sleek and sophisticated design.
Office Signage
If done well, office wall signage can hugely improve the appearance of a workspace. Depending on your brand and business area you can get signs made to suit that tell a story about your company and give off the right impression.
Getting it right means it not only looks great but also gives employees a productive working environment.
For example, a digital agency may opt for bright, bold and very modern designs like the one below, which matches their industry.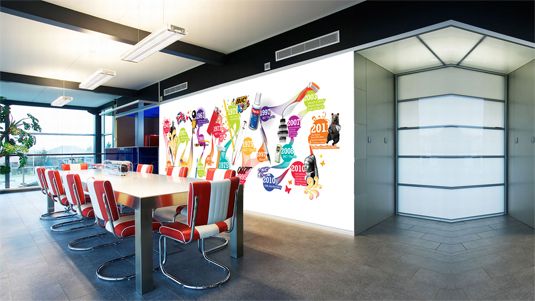 Image source Pinterest
Glass Manifestation
Frosted or etched window vinyl is used in many offices and looks very smart and professional. You can use a variety of colour and photographic images, either abstract or aimed to promote products or services.
Some of the glass manifestation we offer includes glass etch effects, promotional adverts, office partitioning, safety and colour films and vinyl text and logos.
This type of signage is great for updating your office and creating a more up to date feel without a huge price tag! Take a look at some of our glass manifestation works here.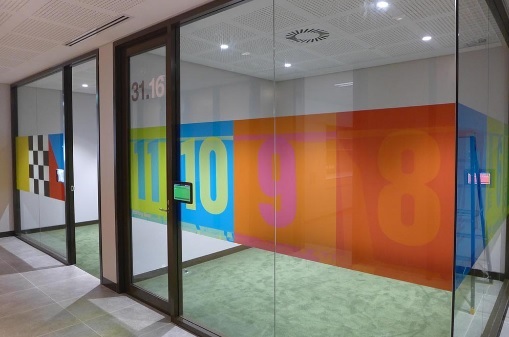 Furnishings
White seems to be the 'in' colour for office furniture and many offices add 'pops' of colour to other areas without making it look too busy. Leading furnishing stores sell a huge range of white and gloss office furniture which could be just what your space needs. If your logo incorporates a range of colours, you can add these to your office whether in signage or choosing chairs to match etc.
Gensler's 2016 UK Workplace Survey found that workers were more likely to be innovative if they had access to a range of spaces supporting different working styles, including private, semi-private and open-plan environments. Keep this in mind when planning your office layout.
If you want to speak to us about any of the services we offer, call us today on 01403 272544.