If you're showcasing your business at event fairs and exhibitions, or perhaps even pitching to a new client or potential partner, ensure you're making the best impression for your brand.
When you reach out to increase awareness and grow your client list, it's important you can easily take your companys ethos with you in a visual way. This gives you an immediate strong presence and level of approachability. You also benefit from a sense of professionalism and legitimacy.
SL2 Signs can create a range of bespoke roller and display designs for event banners. Here's why you should consider this next step in self-promotion: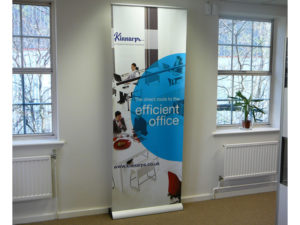 Durable
Roller and display banners are very well made, whether you choose standard or superior models. As they roll up smoothly into their casing, they're protected from creasing, dirt and your general wear and tear. The metal casing combined with the included carry bag mean you don't have to worry about travelling to events and getting them damaged.
Long lasting
Aside from a significant brand change, these signs can be kept and last for years if well looked after in their cases. The thick materials are very sturdy and hold onto the print colour so will always look fresh to new eyes. An additional benefit of this longevity is that your target audience will start to form brand recognition and loyalty for you at events, which is likely to increase consumer confidence.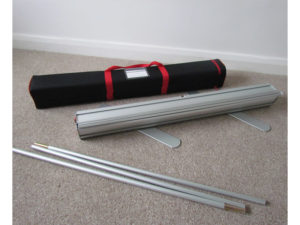 Portable
These handy signs are designed to be transported and be flexible to your marketing needs. As they roll up into a small space and come with a carry bag, you can safely store them away in your vehicle or carry them yourself if the event is within walking distance or you're taking public transport.
Once you arrive at the exhibition, the signs pull out of their casing with only a slight effort, so you'll be up and running in no time.
High impact
Imagine hosting your very own stand at an exhibition and setting up before the crowds arrive. This is your space to show-off your business and what you offer. Having roller and display banners means you'll be quickly seen and if you ensure they highlight your services, your target market will come to you from across the venue.
This type of sign is also ideal as you'll still have space behind your stand and in front to move around and engage with your audience. Use them as reference to your brand and to quickly highlight your contact details. In this way, these event banners have the power to strengthen your impact and ensure you have a successful exhibition.
If you're interested in learning more, call 01293 272544 or send an email to info@sl2.co.uk.