First impressions are incredibly important for businesses and can be that make or break moment when trying to gain a new client or improve customer relations. It's a great idea to consider getting branded workwear if you're a services company that has staff often travelling to clients.
At SL2 Signs, we're here to advise on clothes logos and your customised requirements for shirts, uniforms and many more items. So, here's a look at why you should consider branded workwear:
Recognition
Having a uniformed staff member arrive on site for a project, or at someone's home, makes them instantly recognisable and relaxes your client on sight. It also gives a sense of professionalism and success as showcasing your logo means you're proud to be in business.
The main benefit of recognition is that clients can feel a true personalisation with your business, a face to the name, which makes them more likely to recommend your services to their friends and family. The best option in this instance is to place a logo on the front and on the back for optimum coverage.
Practicality
It makes a lot of sense to provide staff with appropriate clothing for their duties so they're in the best position to do the job well. Branded shirts or blazers with a logo or name tag on the front are ideal for visiting large corporations as they remain very smart, whereas more casual polo shirts are more suitable for construction workers.
An additional consideration is providing staff with branded workwear that's casual and able to be worn outside of work. It essentially acts as free advertising after your initial investment as you can custom design your items to include call to actions, such as phone numbers. The only piece of advice would be to have a basic set of rules for wearing it out of work so your brand image is maintained.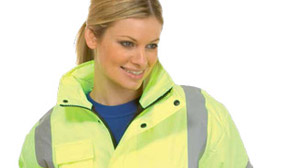 Team building
Uniforms or matching clothing can create a great sense of community and comradeship between colleagues, often increasing their loyalty to a company in the early stages. This is why you'll find huge international companies with a public face have strict workwear regulations as it's thought to actively promote efficiency.
In light of this, applying your company slogan in addition to your logo would be a great addition to your potential design.
Safety
Perhaps the most important aspect to consider when thinking about customising your workwear with logos and print designs is safety. This can vary from fluorescent materials if your staff need to work in environments with limited light, to including the job role as an embroidered note under the logo. These are particularly useful for construction workers where it may be different to locate individuals or hear them through background noise.
If you're considering improving your current workwear or getting customised items for the first time, gives us a call  on 01903 759048 and check out our workwear information page here. We look forward to hearing from you!